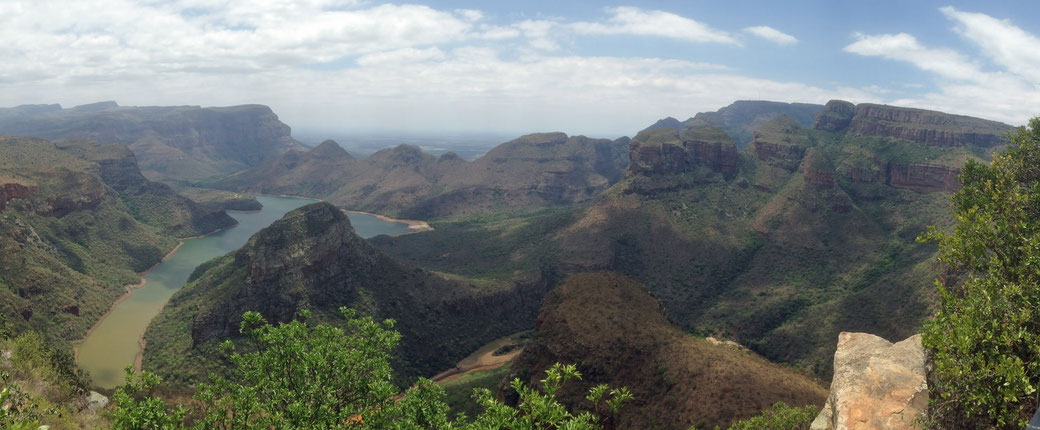 What happened to Africa? This looks like Scotland!
We have been driving for 5 hours from Lydenburg to Sabie. The Sabie Town House was our next stop for the next 2 nights. We passed the Long Tom Pass on our way to Sabie and this route gives you several excellent views. The landscape changed from red hot sandy hills to blue greyish mountains with so many shades of green that the eyes and brain needed some time to process the information.
If you have ever been to the Scottish Highlands, this region will make you want to stop and have a whiskey or a pint of cider and some fish and chips. The resemblance is incredible but the fact that not sheep can block the street but maybe an elephant, pulls you back into reality.
First stop was Pilgrim's rest, a little village where time seems to stand still. It is a great place for a walk, very touristic but still worth it. This little town even offers the opportunity to improve your skills on how not to get bamboozled when it comes to negotiating parking cost and imaginary car wash fees with the harmless boy gangs playing tricks on tourists. Don't fall for it, just consider it as a little prank.
God's window is an amazing place. The view is fantastic even though it was a bit misty. Personal advice: Go very early in the morning or for sunset. These platforms are very crowded during the day. For sunset, the place was empty and we had it all to ourselves.
BUT!!!!! Beware of the vervet monkeys, they follow you. Don't carry around food or drinks because they will hunt you. Even well performed "Bruce Lee Imitation Moves and Sounds" couldn't scare them off.  I think the monkey looked at me and thought: "Boring tourists, no imagination, I see this 10 times a day, like this could impress me. Give me your cookies and piss off".

The perfect spot to finish a day trip and ponder over gained impressions is "The wild fig tree" Restaurant in Sabie. The food is absolutely fabulous.
The region gives you a big choice of things to do like Shopping, Quad Biking, hiking trails, discovering caves etc. Do not make too many plans, just go with the flow. We enjoyed driving around for half a day just diving into nature and its amazing views.

Another tip: If you have the time to drive to Hoedspruit, go for a 60 minutes micro light flight into Blyde River Canyon. It is always great to change perspective. Flying over nature reserves can be included. In my case we saw Rhinos at a waterhole which was really impressive.
All in all, the panoramic route is an amazing area and the landscapes are absolutely unique and majestic.
Many thanks once more to Katja for the stunning pictures and the nice description of the Panoramic Route. More destinations will follow in the coming weeks.
We hope you enjoyed reading this one too.
Your Trouver Services Crew.