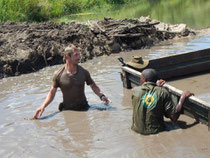 As most of you certainly know informing people about the terrible crimes related to poaching in many African countries is an important subject for us at Trouver Services Ltd. in order to help prevent the extinction of some of African's iconic species like Rhinos and Elephants.
Kurt Steiner, a friend of ours, is currently working in Tanzania as an anti-poaching specialist and since so we thought it might be interesting for many people to know a bit more about the daily work and efforts that are taken to stop poaching. The interview is part of our magazine which will from now on regularly appear as a special to our newsletter. You can subscribe in the right colum or simply send us a mail and we will add you to it.
For those who are not subscribed you will find the interview as pictures just below this post. Feel free to comment about the interview and if you want a message to be passed onto Kurt and his crew (like he suggests during the interview) we will gladly do so.
We can't wait for the discussion it will hopefully start and wish everybody a wonderful sunday.
Romain