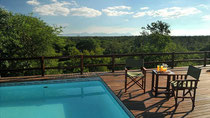 We are regularly confronted with people telling us that Africa is very dangerous and that they would really like to see the animals etc. but that it is too risky. Is that truly the case?
To start I think you need to really differ between the countries and within the countries between the different areas as the countries are big and the areas vary. As mentioned in our first blog post in a totally different matter, many people make the mistake of seeing Africa as one and forget that it actually is a continent with over 50 different countries. There are similarities just like you will find similarities between countries in the EU or Asia but each country has its own advantages, disadvantages, risks and dangers.
But since we want to keep it short and simple I will just post what I generally do to stay as safe as possible:
Information - An important step always is to try and gather as many informations about your destination as possible to avoid going to unsafe places. Informations are nowadays relatively easy available on the internet. If not any serious travel & tours company will know where to go to and where not to and not even have any unsafe areas in their programme, if you have doubts discuss it with them before departure.
Common sense - It sounds logical but unfortunately it is not always the case. If you travel to foreign countries behave like you do at home, don't count your money on the street, don't wear expensive jewellery, watches and accessories when you visit public places, don't leave valuables in your car when it is parked to mention some. Don't get involved in any fights or troubles, even when there are workers on strike for example they don't want anything from you so no need to panic. Remain calm at all times and take rational decisions.
Stick to the rules - National Parks have quite severe rules and obligations and for a reason. When you travel within the borders of the park you are in the wild. You are not in a Zoo and animals are in their habitat and you are a potential prey for them. Always stay in your car and don't lean out of the windows, never feed any animal through a fence. Plan your trips before leaving as the only washrooms are in the camps!
Trust your instinct - If you are not sure about visiting a place or something appears fishy, don't go! No need to worry when you leave it out, just continue your way to the next stop or simply go to your lodge. At your lodge they will also be able to inform you about places that should be avoided.
Respect - Generally it is important to respect people and their environment. Before you take pictures of people make sure you ask for permission, always remember what you see is the people's everyday life and not a staked environment for tourists. When you are at a market people will try and sell their goods to you and maybe follow you for a bit, make sure not to insult them and just politely say no if you don't want to buy anything.
Be well organised - When you drive on your own make sure you check the map and the itinerary well before you start so you don't get lost. Moreover plan your departure rather too early as driving at night should be avoided. The camps in national parks also close between 17:30 and 18:00 and once closed they reopen in the morning! Also check for petrol stations on your way in case you need to refuel and make sure you have enough water and food in your car to cope with long drives.
Good equipment - Make sure you have the right and good equipment with you. Things like a torch and a leatherman can be very helpful when you are on a holiday in Africa as there always is a risk of a power cutting. Good shoes are very important too, if you are in the bush always wear closed and high walking books so you don't step into something and get injured.
Medical - Ask your local doctor or specialized doctors what vaccinations are recommended for your destination and make sure you follow their instructions. Always drink water from closed bottles and avoid tab water even for brushing your teeth.
These are my recommendations which have worked well for me, sometimes the little extra effort is worth it and can prevent you from getting into trouble.
I can't wait for your comments and I look forward to an interesting discussion.
Romain