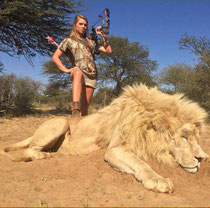 This is our first post in this our own humble blog and I don't know how to go about it so I thought the easiest would be to just start.
In the last couple of days the international media has picked up the topic of Kendall Jones, a 19 year old girl from the United States who likes hunting. So far so good. If you have not followed it you might wonder what the problem is about this blonde rather attractive young cheerleader interested in a once typical men's domain. We are in 2014 not 1842 you might think. Well things are a bit more complicated in this widely discussed topic, she likes trophy hunting in Africa and she uses her facebook profile to publish images of herself bow hunting endangered species like elephants, lions, leopards and most of all rhinoceros with rather tasteless comments. I will not "bash" her or wish her any bad as enough people have done so to let her know most people disapprove her leisure activities.
Why she is doing it, I don't know as I don't know her in person. There are many possibilities and one which seems rather likely is the common phenomenon of craving for fame. Post a few pictures of yourself doing unusual things and people will spread them and make you rich and famous. Ever since MTV brought us "Jackass" a lot of people have walked that path, very few with success but that does not stop people from trying. I am sure everyone who reads this will know some examples right away.
Why does she have to hunt endangered animals in Africa you might ask. Good question but instead of doubting her intelligence and insulting her I asked myself does this 19 year old girl even know these animals are endangered? Due to my passion for Africa and obviously also this our homepage I try to be well informed about happenings in Africa, especially the countries I have been to or planning on going to. I also often talk to people about Africa in general and it is sometimes shocking how little even highly educated people know about it. Be it geographically or other topics many people just get their information from the international media and they don't report about how wonderful Africa can be but the headlines are death, famine and terror. Certainly Africa has many problems, even in the stable countries, and I will not deny that fact. And it is logical that, to a point, these topics dominate but I think the international media should also vary their programme by looking for success stories as believe it or not they exist in Africa too.
If you want more than random information you need to really dig deep into the internet. One topic which most media successfully ignore is the dramatical increase of poaching in Africa in the last 12-13 years. In the year 2000 6 rhinoceros where poached in South Africa, in 2013 1004, on the 30th June 2014 496 so if there is no miracle this year will match last year's figures more or less. You did not now? Well you are not alone...Certainly a lot of efforts are taken to prevent these terrible crimes but the areas to protect are huge, the poachers are well equipped and aggressive and the population poor. Figures of arrests are stable more or less and a lot of rangers as well as poachers lose their lives. One could call it a certain type of war happening on a daily basis. Howard Buffett donated 24 Million $ to SANPARKS, the government-run operator of all National Parks in South Africa. Certainly a great gesture and a good thing but in the end a drop in the bucket. Each one who reads this can help spread the word...
So instead of blaming Kendall Jones one could also say why don't the media inform people about poaching better and the real danger of extinction for some of Africa's most iconic species? Why don't they use Kendall Jones to introduce the poaching problem to a wider public?
Trophy hunting is not poaching you might say. True, it is an industry of its own and the game reserves, National Parks etc. have to manage their "stocks". Space is limited and too many animals are not healthy for the ecosystem. But lions, leopards, rhinoceros are not part of the too many category...
To sum it up, it is too easy to blame her and only her as there are many Kendall Jones' in this world, they might be male, might be older, might be different, the result will nevertheless be a dead animal, for some species one too many. The true and deeper problem is not the trophy hunting though but the poaching as without poaching there would be enough animals for the richer ones of us to follow their hobby. The money from trophy hunting is partly used for conservation to lower the dramatic effects of poaching in many regions.
I would never paticipate in hunting and we at Trouver Services will regularly post updates on poaching as that is the true evil. This post is in no way an excuse for Kendall Jones and the way she goes about it but sometimes you need to dig deeper to find the real problems.
Thank you for reading and feel free to comment,
Romain